Rock Springs Retreat Center / May 27, 2022 / Anna Rutherford / 0
The team at Fit Farm at Rock Springs is excited to share with you Alumni Advisory Board Member Gary's inspiring journey! Gary has had amazing success with the Fit Farm program and lost an impressive 70 lbs. in nine weeks! Fit Farm energized and gave him the motivation to transform his life. The knowledge and skills he learned while on the farm are now a part of who he is. Gary originally came to Fit Farm with the goal to reclaim his health. He never could have imagined what he ultimately got out of the program. We invite you to join us on this incredible journey of how Fit Farm gave Gary a second chance at life.

Out of respect for privacy, Gary has requested his photo to not be shared.
---
Gary, like many Americans, was hit hard by the COVID-19 pandemic. He was forced to make difficult decisions that he had hoped he would never have to make. Going from doing what you love every day to suddenly not at all is taxing. It was a heavy burden that was constantly weighing on Gary's shoulders. This difficult moment in his life weighed on him so much that he slowly began to slip away from his previously active lifestyle. Before he realized it, he had gained 130 lbs. over the pandemic. That's when Gary knew he needed to make a lifestyle change.


Gary wasn't new to attending retreats. Before choosing Fit Farm at Rock Springs, he had attended two different retreats from two different companies. The first was a retreat that was very hiking-driven and the second was focused on the mental aspect of lifestyle changes for weight loss. They each leaned towards one end of the spectrum and didn't encompass the entire journey for weight loss. After attending the two, Gary had a clear picture of exactly what he was looking for, Fit Farm.


The reason Gary had journeyed beyond the two previous retreats was because they didn't quite complete the puzzle. He knew that he wanted something that would challenge him, hold him accountable, and go beyond the physical aspect of weight loss, while also addressing nutrition and wellness. That's when he stumbled upon Fit Farm at Rock Springs and made the decision to attend his first Fit Farm retreat in June 2021.

At first, Gary wasn't sure what to expect. He wasn't afraid of the program, but he was worried that he might not be able to keep up with everyone because he had been inactive for so long. But as soon as he entered the driveway of the property, he felt all his worries wash away.
Rock Springs is one of the most beautiful places I've ever been to. You calm down as soon as you arrive. You can't capture the magic until you drive through the front entrance and the mile-long driveway filled with trees. There is a serene beauty and calmness that you just won't get anywhere else.
Gary quickly realized that when you're at Fit Farm, you're family. There are people from all over the world, all walks of life, all ages, and of all fitness levels that are here. There's no set standard for fitness at Fit Farm. You can be a seasoned athlete or someone who's never set foot in a gym. The trainers and staff will work with you based on your abilities to help you achieve your personal goals. It's a judgment-free, welcoming environment on the farm and no matter where you are during your journey, the team will meet you there.


The first class that starts the week off at Fit Farm is brawl box. It sets your personal benchmark and is the standard of what your week's going to be like on the farm. For Gary, his first brawl box class was like jumping into cold water; he didn't know what to expect. But he swiftly acclimated after he realized that he could do this, and it became his favorite class. He loved that brawl box was a full-body workout that included cardio, lifting weights, and comradery. You build a relationship with the person you're partnered with, and you feed off each other's energy. It's through this teambuilding that friendships and unrivaled bonds are made that go beyond the farm.
Part of the beauty of Rock Springs is that you will meet people from every corner of the world, and it doesn't matter how different your backgrounds are, you all become friends and support each other.
Twice a week (and sometimes even more!) the guests at Fit Farm go on a hike. It's a chance for them to explore the beauty of middle Tennessee and it's important for those who are staying for a long time on the farm to have a change of scenery. At first, Gary wasn't crazy about the hikes. His first hike was difficult. The unpredictable terrain was challenging. However, as soon as he conquered that trail, hikes quickly became something he loved. He was easily burning an impressive 1,000 calories per hike! Day hikes were something to look forward to for him and his favorite location was the Window Cliffs where he'd jump off the waterfalls into a swimming hole below. Talk about an adventure!


For many people, when they think about the food that's served at a fitness or weight loss retreat, the first thing that comes to mind is the fear of going hungry. Contrary to popular belief, that simply just isn't the case.
The food is great with a lot of variety. If you need more food, you get it. You won't be starving but you will learn to eat differently and be happy. We even have a glass of wine once and a while.
The food at Fit Farm was better than what Gary had expected. His favorite meal was the pesto chicken pasta (the third picture from the left above). It's a dish that has grilled chicken, zucchini, and yes, pasta!, covered in pesto sauce. He couldn't believe that he could have pasta while trying to eat healthily. At Fit Farm, guests are taught how to make healthy meals that are satiating and enjoyable. You're not on a diet, you're making a lifestyle change. When Gary returned home, he became aware of what he was eating, and that portions and ingredients were important. He used this knowledge as a tool to turn his favorite dishes from restaurants into dishes that are twice as healthy at home!


Life back at home was so busy for Gary. Quality time with friends was rare, especially during the pandemic. He was starved of real, meaningful interactions. After coming to Fit Farm, he learned what it was like to feel human and real again. The guests and staff here have real conversations with you. Everyone is listening and genuinely cares about your wellbeing. One week at Fit Farm to Gary was an entire month's worth of quality time with real people. When so much of your day is closely intertwined with others that have similar goals, you're naturally able to quickly form a bond. You work out together, you eat your meals together, you support and encourage each other, and you have fun and laugh together. They're the recipe for lifelong friendships that Gary holds dearly to his heart.


To Gary, the fact that he is not just another face when he comes to the farm is so important to him. The staff genuinely cares about the well-being of their guests even beyond the farm and they want you to come back not because you've gained weight, but because you are happy, healthy, and want to see your Fit Farm family again.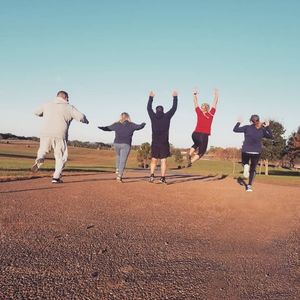 The people at Rock Springs are like family to me. I love coming back just to see them again.
Gary returns to the farm not because he has to, but because he wants to. The lifelong friends he's made at Fit Farm return to the farm with him, truly making it his home away from home. Coming to Fit Farm is like daily meditation for him. He doesn't have to worry about the day-to-day hustle, what he's going to eat, or if he's doing the right workouts to lose weight. There are no hard decisions. Just good times with good people.


To him, joining the Fit Farm at Rock Springs Alumni Advisory Board was revolutionary. The fact that the owner of a business wanted to actively hear from their guests and act upon what they had to say meant so much to him. He chose to join the board because he believed that Fit Farm is life-changing and wanted to be a part of it.


Losing weight can be a daunting task, Gary shares. Trying to do it at home can be even more difficult. It takes a lot of planning, knowledge, and discipline, all of which are affected by external factors that can be out of your control. Coming to an environment that's supportive and distraction-free allows you to just focus on yourself, which is so incredibly important when it comes to getting the results you want. That's why guests are able to achieve one month of results at the gym in just one week at the farm. For those who have never attended a retreat before but are considering it or have some hesitations, Gary provides some thoughtful insight.
Don't overthink it. You can try to lose weight on your own at home, and maybe you'll be successful. A stay at Rock Springs removes all those factors you can't control and allows you to just focus on your health and well-being. If you follow the program, you'll change your life.
Gary expressed the importance of not being afraid. Everyone will struggle in their own way. It doesn't matter if you're the fittest person or the least fit. You can go in confidence knowing that you will be in good hands at Fit Farm. For Gary, the best thing about Fit Farm at Rock Springs is the equilibrium. People of all shapes and sizes are here and everyone is treated equally. Once you arrive on the farm, your journey to a new and healthy you will be within your grasp.

The team at Fit Farm at Rock Springs is grateful for the honor to be a part of Gary's personal and successful journey. We hope that you found his story inspirational for your own journey toward a healthy lifestyle.
---
---